The Massachusetts Beach Named The Most Dangerous For Swimming In New England
Cindy Goff/Shutterstock
While swimming on a summer vacation might make for the ideal getaway, there can be an element of danger. Depending on where you are, the danger compounds simply because of migration patterns of sharks, creating beaches that are shark infested. While some beaches aren't infested, they rack up enough shark sightings that they qualify as dangerous. This is certainly the case with many beaches in Massachusetts, the most dangerous among them being Newcomb Hollow Beach, located in Wellfleet, Cape Cod. Despite its danger ratings, the beach continues to be a popular destination spot for summer travelers thanks to its border of sand dunes and surfable waves.
Images of Newcomb Hollow Beach in the summer show an idyllic spot, the perfect respite for a vacationer in need of some R&R. However, the beach has a history of Great White Shark attacks that make it more harrowing and deadly than meets the eye. There are reasons for the resurgence of sharks, and there are ways to make a visit to this beach safer. But going in with information and caution are imperative.
An increase in shark sightings at Newcomb Hollow Beach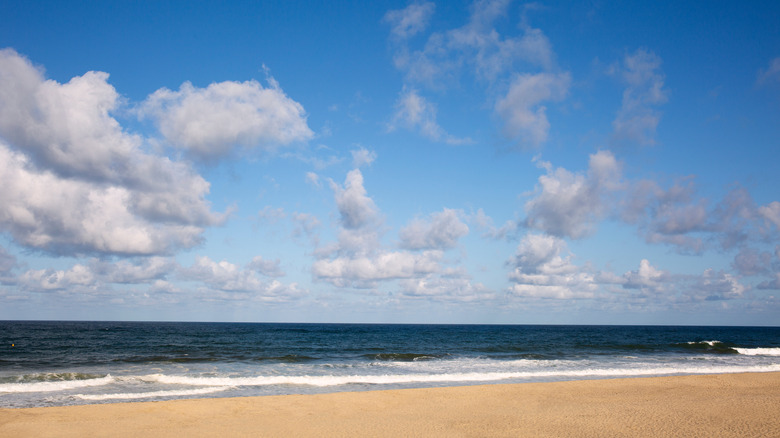 Cindy Goff/Shutterstock
Newcomb Hollow Beach hasn't always had problems with sharks. The change came because of a growth in the seal population. In decades past, seals were underpopulated because of hunting, but in 1972, the Marine Mammal Protection Act allowed the seal population to grow back to a healthy number. With the seals, however, come sharks, and since seals like to travel to the coasts of Massachusetts, the sharks have followed them there.
"Forty years ago you couldn't find a seal on the beaches of Cape Cod. And you couldn't find a white shark either," Dr. Gregory Skomal of Atlantic White Shark Conservancy told Boston University News Service in October 2018. "We don't know how many were here over the last forty years, but [the seals] were driven down to very low numbers, likely less than 10,000. That population now is thought to be in excess of 500,000."
Since humans aren't fatty enough, shark attacks are accidental, but that doesn't mean they can't be deadly. In September 2018, Arthur Medici, a 26-year-old surfer died after a shark attacked him at Newcomb Hollow Beach, CBS News reported. The experience, as well as the numerous shark sightings in the area, have left people feeling anxious about the beach. As Boston Magazine noted, the deadly attack in 2018, as well as the resurgence of sharks in the area, has changed beach tourism not only at Newcomb Hollow Bay but for Cape Cod at large.
You can still swim at Newcomb Hollow Beach, but with caution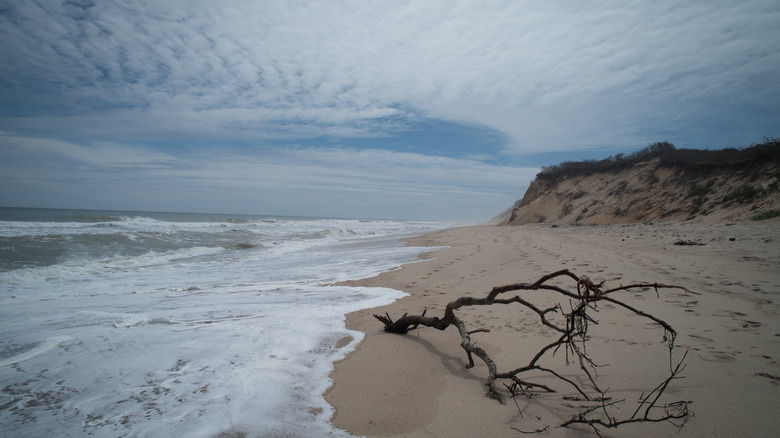 David Montgomery/Getty Images
The shores at Newcomb Hollow Beach are still open to swimmers and surfers, however there's a large caution sign upon entering the beach. As CBS News reported after the death of Medici, swimmers are greeted with the message: "The inshore waters off Wellfleet are a feeding ground for Great White Sharks. They come to this area to feed on seals. Great White Sharks are predators and should be considered dangerous. Encounters with sharks are rare, but please remain alert."
There are several safety tips for those who still wish to swim in the ocean there given by the Cape Cod Chamber of Commerce. Avoid swimming near seals and know that if seals are present in the water, the chances of sharks being nearby are even greater. Avoid swimming beyond waist-deep water and keep close to the shore. Don't splash in the water and don't swim in cloudy water. Most of all, follow the guidelines given by lifeguards, as they'll shut the beach down if there are shark sightings.
Leslie Reynolds, Chief Ranger for the Cape Cod National Seashore, told Boston University News Service in 2018 that they had to close the beach much more frequently than they did in the past. "This summer, 27 times, we closed the water to swimming for an hour, due to confirmed white shark sightings," Reynolds said. "Since 2013, the average every year has been 12 times." So you can still swim, but do so with caution.