Tips For Booking Private Shore Excursions For Your Next Cruise
Jaro68/Shutterstock
While lounging by the pool, over-sea sunsets, and worry-free living are all popular reasons to cruise, shore excursions are the real "travel" parts of the trip. At different ports of call, you can experience other cultures, try authentic cuisine, and explore new lands. As a modern Magellan, you leave the familiarity of the ship to greet the unknown.
When planning a cruise, there are basically two approaches to taking shore excursions: cruise-sponsored excursions and private excursions. Booking shore excursions through the cruise line is the most popular and convenient option. You can typically book an excursion before departure or onboard the ship. As in many things, convenience often equates to popularity. However, for many cruise passengers, this popularity is one of many drawbacks of cruise-sponsored excursions.
Cruise-sponsored shore excursions will vary in their quality, but these experiences are often expensive, involve very large groups, and can be altogether "touristy" in the worst sense. Fortunately, you can choose your own adventure by planning private excursions. And, if you're a pretty seasoned traveler, we'd suggest taking this route with a few tips in mind.
Carefully research local tour providers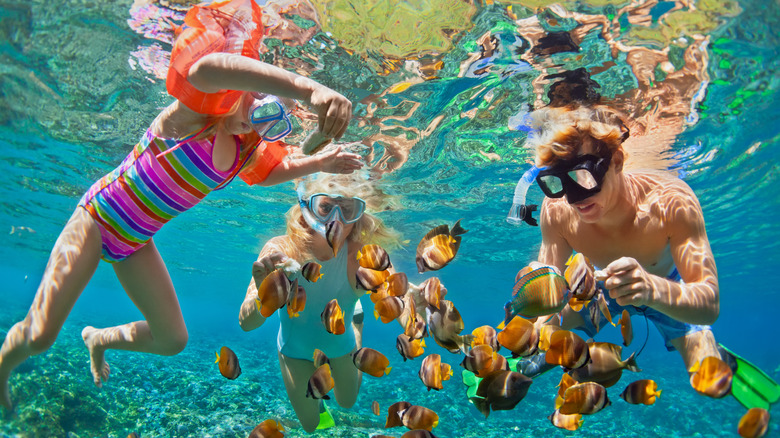 Denis Moskvinov/Shutterstock
Now that we've adequately criticized cruise-sponsored excursions, we should mention a few pros of this option. For one, you can rest assured you won't be scammed by taking a tour or participating in an activity through a ship-associated excursion. The experience may be overpriced and underwhelming, but safe nonetheless. When taking a private excursion, you'll need to research local tour companies carefully.
Depending on your port of call, you may have two options for booking a private excursion. At popular ports, you can probably reserve an experience through tour companies that specialize in shore excursions. For example, Shore Excursions Group actually functions as an online travel agency that caters to cruise passengers looking for experiences at particular ports. You can even narrow your search to private experiences, small group experiences, or large group experiences.
However, you may find that some experiences by tour companies specializing in shore excursions are similar to cruise-sponsored experiences, featuring large crowds and tourist-driven itineraries. If you really want to demarcate cruise life and onshore life, then you'll need to research local tour companies before arrival. Shop around, carefully read customer reviews, and contact the company directly to see if they can accommodate your hard-and-fast time restraints.
Lastly, you'll usually find plenty of local tour companies selling experiences at popular ports of call. While this is probably the least expensive option — and possibly the most authentic — this route is also the most unpredictable and riskiest.
Manage your onshore time wisely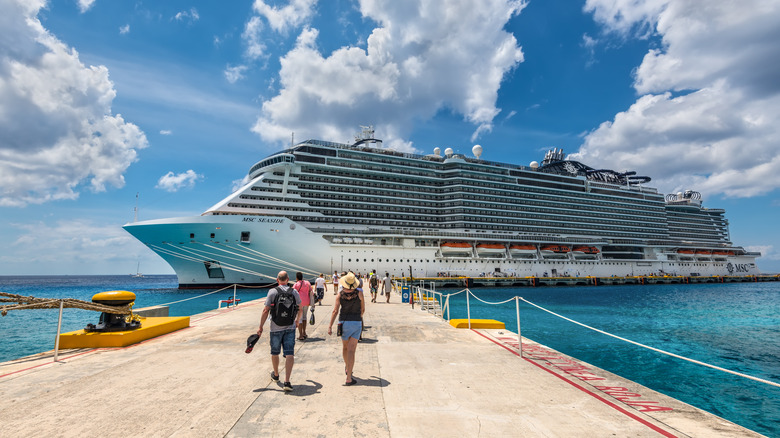 byvalet/Shutterstock
The second advantage of taking a cruise-sponsored shore excursion is that the ship will not sail away without you. If something happens while onshore, the cruise ship will not leave passengers behind who booked an experience sponsored by the cruise line. However, a private shore excursion will be outside the preview of the ship, so you'll be solely responsible for boarding the cruise ship on time.
Local tour companies probably won't offer any baked-in policy that guarantees your timely return to the ship, but some of the larger companies who specialize in shore excursions may. If you find you're overly anxious about being marooned, then you may prefer a larger, shore excursion-focused tour company. Otherwise, you'll need to stay mindful and diligent when managing your onshore schedule.
As a final tip, it's important to understand the concept of "cruise ship time." Often, especially in the Caribbean, the ship's time may differ from the port's time. After your awesomely authentic, private shore excursion, you'll need to return according to cruise ship time versus local time. Make sure you're very, very clear about this with a private tour company.