The Beach Named One Of The Most Dangerous In California (And For Good Reason)
Travelview/Getty Images
As countless people flock to California beaches this summer, staying safe should be top of mind. Boasting 840 miles of coastline, California is home to over 420 public beaches, from urban oasis seashores to secluded stretches of sand. If you're visiting San Francisco this summer, then you should really prioritize safety if you plan to visit one particular beach. Ocean Beach is known for its proximity to Golden Gate Park, scenic views, and relative seclusion from the city's bustle. However, Ocean Beach has one less-appealing distinction among the state's beaches.
"This is one of the most dangerous beaches probably in all of the state of California," said San Francisco Police Department Battalion Chief Glenn Kircher, via KTVU. "There's incredible tidal changes in terms of movement and because of the currents here." Due to Ocean Beach's unique geography, frigid waters, and lack of lifeguard stands, the 3.5-mile beach can be incredibly dangerous for swimmers.
Ocean Beach's rip currents are extreme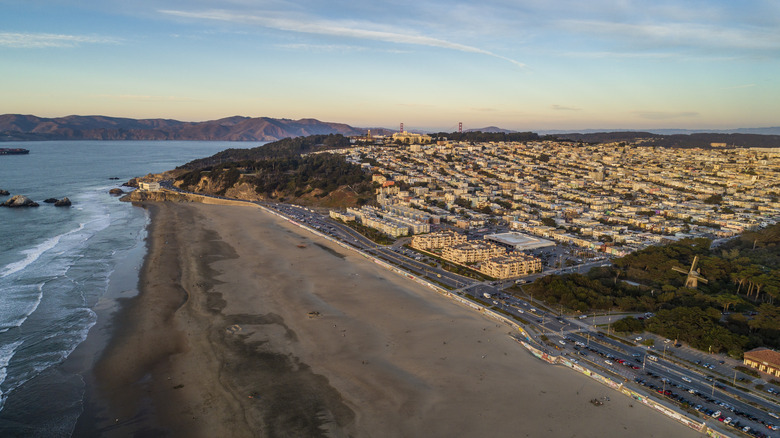 Jasondoiy/Getty Images
According to the Golden Gate National Parks Conservancy, Ocean Beach is not suitable for swimmers or those learning to surf. Rip currents are the biggest reason the waters of Ocean Beach are so dangerous. The tidal changes around Golden Gate Park are particularly extreme, creating powerful rip currents. And, unlike other nearby beaches, Ocean Beach isn't protected by any geographical feature to mitigate these currents.
"You have the San Francisco Bay spilling out every six hours with the tidal flow," explained Doug Armstrong, Supervisor of Ocean Rescue at Golden Gate, on the Golden Gate National Parks Conservancy website. "That creates a very heavy lateral current along Ocean Beach moving in and out with the tide." Armstrong continued to note that summers are particularly dangerous since the waves are typically smaller, leading to a false sense of safety among beachgoers.
Although the waves may be smaller, rip currents are akin to underwater rivers, and due to Ocean Beach's shifting sandbars, it can be nearly impossible to tell where these underwater rivers will form. This doesn't even consider the undertow created by wave movement. When you combine these multi-directional currents, even strong swimmers can succumb to Ocean Beach's power. 
How to escape a rip current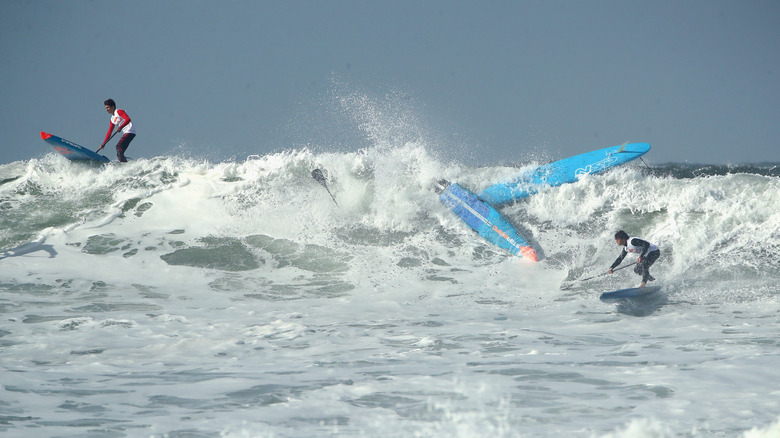 Ezra Shaw/Getty Images
Although Ocean Beach is a popular destination for surfers and kite boarders, the beach isn't suitable for novice wave-riders. While a floatation device may help, the strong current and cold waters can still wear out inexperienced surfers quickly. Not to mention, Ocean Beach does not have lifeguards in towers.
To prevent tragedies, the Golden Gate National Parks Conservancy offers four tips when visiting San Francisco's beaches: stay in knee-high waters, be aware of your surroundings when in the water, keep your kids close at the beach, and if you plan on swimming, visit China Beach, Baker Beach, or Stinson Beach instead of Ocean Beach.
If you do find yourself in a rip current at any beach, it's crucial to first swim parallel to the shore. As mentioned, swimming in a rip current is like swimming against the current of a river. Instead, swim parallel to exit the rip current until you reach a sandbar, then try riding breaking waves to the shore. Finally, to stay safe this summer, you'll just want to skip swimming at Ocean Beach.