Yes, You Usually Need A Passport To Visit The Bahamas (But Here Are 2 Exceptions)
Wangkun Jia/Shutterstock
The Bahamas has long appealed to travelers looking to swap out mundane daily routines for an exciting tropical escape where the focus is firmly on island fun. Made up of 700 islands and even more when you include the many scenic cays, this Atlantic Archipelago is scattered conveniently between Florida and Cuba. It's known for its incredible weather and according to the Ministry of Tourism, the Bahamas welcomed more than 7 million arrivals in 2022.
Whether you're bound for the beach, have a heart for island flavors, or can't wait to explore water sports, there are plenty of reasons to enjoy time in the Bahamas. Making plans for the fun once you arrive is always a highlight. That said, it's just as important to plan ahead for the travel documents you'll need to secure before you depart.
A good rule of thumb is that U.S. citizens planning to arrive by air will always need a passport in hand to enter the country. However, if you're looking to enjoy time here without needing a passport, there are a few routes around having to have one processed. The two exceptions to needing a passport to visit the Bahamas both require travel by sea.
Consider cruising into the Bahamas without a passport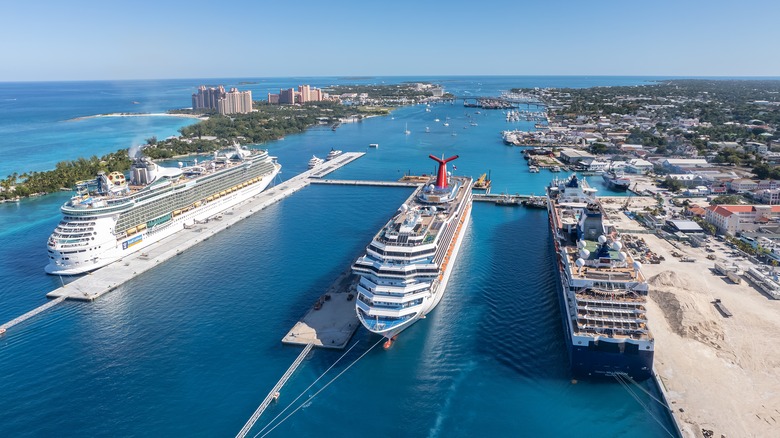 Brookgardener/Shutterstock
The Bahamas is a destination where you can truly find something for everyone to enjoy. From the vibrant atmosphere of Nassau and the family-friendly appeal of Paradise Island to the opportunities to encounter sugar-white shorelines and even swim with pigs in Exuma, the Bahamas has it all. It's a place where travelers will find it refreshingly simple to customize their experience according to their travel preferences.
Those who are looking to enjoy a journey this way without needing a passport to do so will want to make sure they've booked a closed-loop cruise to get here. Cruising into the Bahamas this way provides a special passport exception for U.S. citizens. This is because the cruise ship will embark and end at the same U.S. port.
U.S. passengers arriving in the Bahamas via a closed-loop cruise will still need to have appropriate identification in place in order to enter the country successfully. Many cruise passengers opt for a passport book in place of a traditional passport. A trusted traveler card, enhanced driver's license, or passport card is also considered an acceptable form of identifying documentation.
Age is a factor in passport-free travel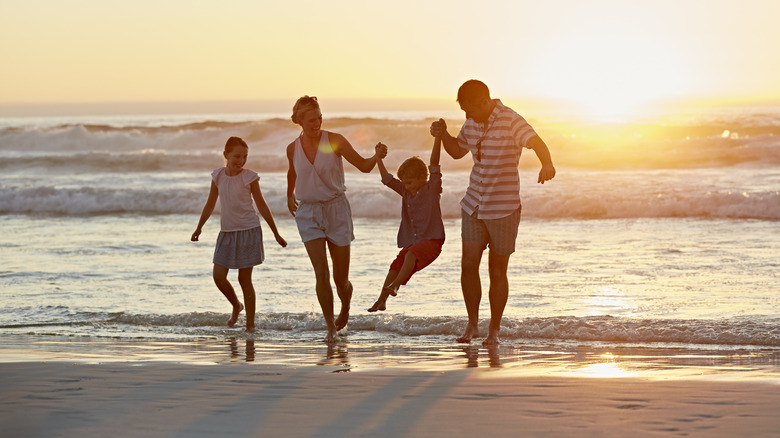 Morsa Images/Getty Images
A trip to the Bahamas can be a passport-free experience for some minors traveling with parents or guardians. It all depends on the age of the young traveler. While adventurers of all ages are required to have a valid passport when flying into the Bahamas, those who are under the age of 16 and traveling to the country by sea have different rules applied. For these seafaring passengers, entrance to the Bahamas is granted by simply presenting a birth certificate, certificate of citizenship, or a naturalization certificate upon arrival.
While factors like arriving on a closed-loop cruise or even your age can provide an exception to visiting the Bahamas with a passport, many travelers choose to have one on hand anyway. The U.S. Department of State recommends all citizens, including closed-loop cruise ship passengers, have a passport with them whenever they travel internationally. This is a safeguard against unexpected circumstances such as a missed departure or an onboard emergency. In these scenarios, a passport will allow you to fly to the next port of call or home if it's required.