The Most Budget-Friendly Time Of Year To Visit The Cayman Islands
Daniel Friend/Shutterstock
The Cayman Islands are a popular destination for luxury travel, but that doesn't mean they're necessarily off-limits to budget-minded visitors looking for a tropical getaway. A territory of the United Kingdom located less than 200 miles off the coast of Jamaica, the Caymans are actually a collection of three islands. Grand Cayman is the biggest, and features some of the region's most popular attractions, from Seven Mile Beach in the west and Stingray City in the north, all the way to Queen Elizabeth II Botanic Park in the east. Cayman Brac, meanwhile, is known for its unspoiled beauty, providing the perfect conditions for birdwatchers, hikers, cyclists, and divers alike. Finally, at just ten square miles, the appropriately named Little Cayman is also known for its world-class diving and bird colonies. Collectively, the Cayman Islands attract tourists due to the tropical Caribbean climate. And, given that the temperature in the region averages 81 degrees Fahrenheit, you may be wondering when is the best time to go, especially for the best deals.
Pay attention to the weather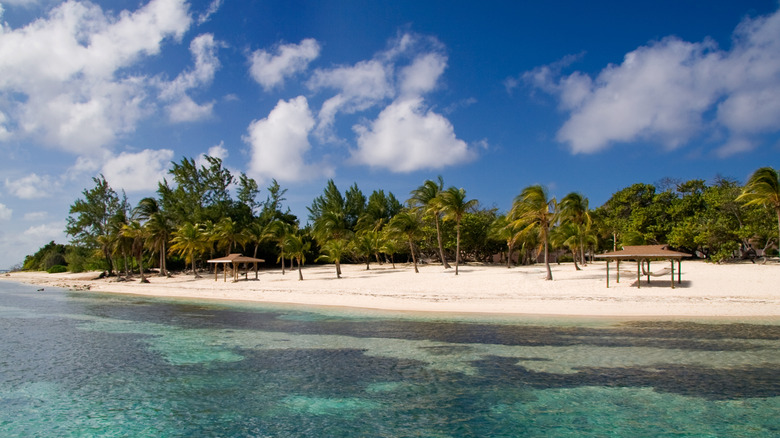 lweissman/Shutterstock
Before discussing the best time to visit for your wallet, let's talk about the weather in the Cayman Islands for a minute. May to November is the rainy season, and November through February sees slightly cooler temperatures — between 65 degrees and 75 degrees Fahrenheit. The region is prone to hurricanes from June to December, which leaves March and April as the best time to go to the Cayman Islands, climate-wise. Temperatures will be warmer, but it should be relatively dry. Still, the weather will vary from island to island, so travelers should research the conditions for wherever they're planning to visit, specifically.
According to The Planet D, the most budget-friendly time of year to visit the Cayman Islands, particularly for the lowest rates on accommodations, is between March and June. This means you're in luck both weather-wise and climate-wise, because March and April fall within that window. Of course, if you're willing to risk going when it's rainy or at the cusp of hurricane season, you can do that, too.