The Three Eyes National Park's Beautiful Lagoons Are A Must-See In Santo Domingo
Uhryn Larysa/Shutterstock
Santo Domingo is the stunning capital city of the Dominican Republic. It's full of Spanish colonial and contemporary architecture while being surrounded by natural beauty and a pristine coastline. Santo Domingo holds an important role in history as it was one of the earliest colonial settlements and received recognition in 1990 as a UNESCO World Heritage site.
Besides its colonial history, there are many reasons to visit Santo Domingo. According to Dominican Abroad, some of the best sites to experience include Quinta Dominica, the Amber Museum, Teatro Nacional Eduardo Brito, and Parque Nacional Los Tres Ojos, aka the Three Eyes National Park. The Three Eyes National Park is a nature reserve with stunning limestone caves and lagoons that gets its name from three eye-shaped lagoons. A natural gem, the area offers an unforgettable experience for all travelers and should be on your list of must-see places to visit in Santo Domingo.
Discover the Three Eyes National Park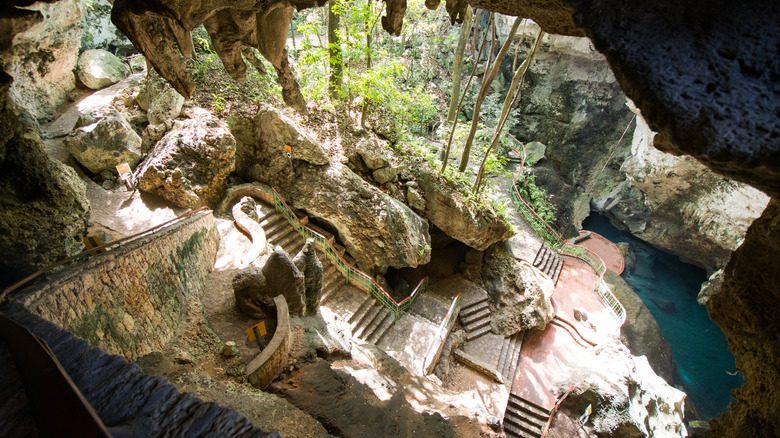 R. Lemieszek/Shutterstock
According to Dominican Abroad, the first lagoon travelers will encounter is named Aguas Azufradas, which translates to sulfur waters. However, the waters of this lagoon do not contain any traces of sulfur. It was given its name due to a white component in the water that turned out to be calcium, among other minerals. The next lagoon is called La Nevera (the fridge), and it is the coolest of the lagoons since sunlight hardly reaches it. The third lagoon is called Las Damas (the ladies) since it was formerly used as a place for women and children to bathe. Despite its name, the Three Eyes National Park has a fourth lagoon: "Los Zaramagullones," named after a duck-like bird that passes through the area. The park itself has reportedly played a role in some well-known movies, including "Tarzan" and "Jurassic Park III," according to Listin Diario.
Due to its location and the many steps required to reach the cave system, sturdy shoes with a good grip, along with cool clothes, are recommended, as the caves tend to be humid and hot (per Dominican Abroad). The warmer Caribbean climate also creates the ideal environment for mosquitos, so insect repellant is a good idea. You can arrive at the park by car, ride-share, or public transportation. There are also some guided tours offered in the area, but travelers can also visit by themselves as it is easy to navigate.