The Best Times Of Year To Visit The Bahamas If You Have A Small Budget
frozenblizzard/Shutterstock
What do Faith Hill, Johnny Depp, and Steven Spielberg all have in common? They all own islands in the Bahamas, according to Boat International. It's no wonder, considering the natural beauty of the islands around 100 miles off the coast of Florida. The color of the clear water ranges from a dazzling light turquoise to deep sapphire blue. 
As for the beaches, it's hard to pick the most impressive. On Harbour Island, there's three-mile long Pink Sand Beach. There are private white sand beaches like at The Cove Eleuthera. And Gold Rock Beach inside Lucayan National Park on Grand Bahama is perfect for a picnic, where at low tide, the ripples left on the sand showcase why the beach is known as the Bahamas' "Welcome Mat." The Bahamas really is the perfect place for a tropical vacation. There aren't too many of us who can jet off to the Bahamas to stay on our own private island, so if you're on a budget, here's how to figure out when to go.
Skip visiting the Bahamas in the middle of winter or summer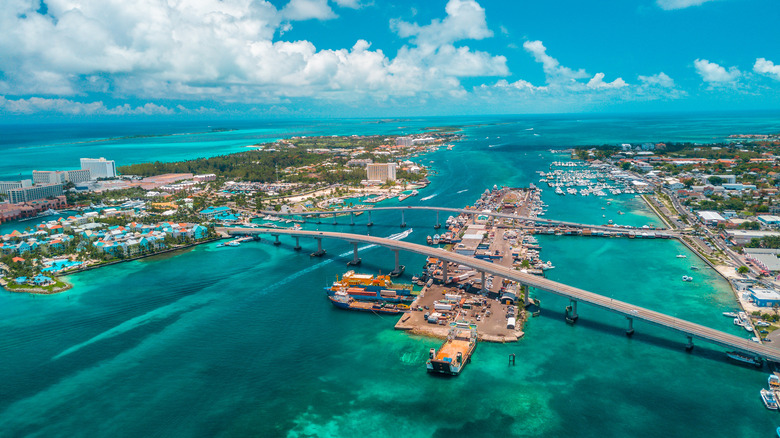 Bogdan Dyiakonovych/Shutterstock
The high season in the Bahamas is from around mid-December through mid-April, so it's basically busy from the holidays through spring break for many American schools, per U.S. News & World Report. Busy season means high room rates, so look at other times of year to get the most bang for your buck in the Bahamas. Kayak reports that the cheapest flights to the Bahamas are currently in January, which is also the coolest time of year, with average temperatures between 63 and 78 degrees F, per Current Results. But it's not just the flight cost you have to think about. The best time of year for budget pricing on a hotel or resort is in the low season of late April to late November, per Cover Trip.
The most popular and most expensive times to visit the Bahamas in large part connect to the weather. During the summer, it's both hot and humid with an average high temperature of 86 degrees Fahrenheit, via Weather Spark. Hurricane season officially runs from June 1 through November 30 with late summer and early fall having peak potential for a hurricane or tropical storm, according to the U.S. Embassy in the Bahamas. Though don't let the potential for hurricanes stop you as hurricanes aren't too frequent, per Worlddata.info. So the sweet spot for good weather and price point would be around May or October.
Swim with pigs, sample rum, and spend time with locals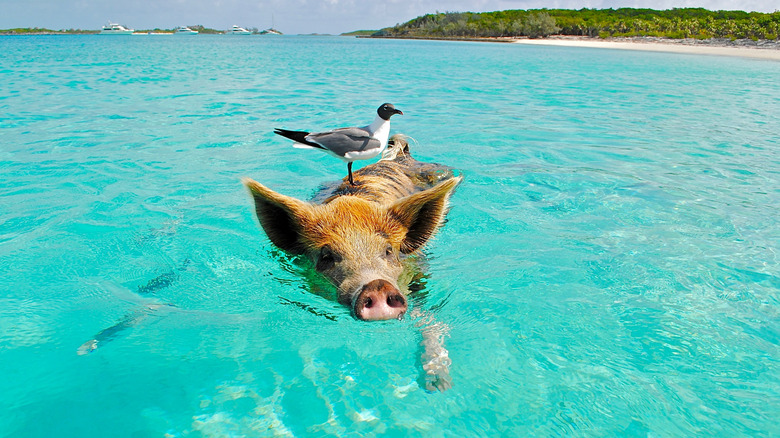 Lisa Belle Larsen/Shutterstock
When you're planning your trip to the Bahamas, figure out what your can't miss experiences are. It could be a tricky decision since there's no lack of things to do. The Bahamas has world-famous swimming pigs in the Exumas; the Exumas are also where you can find Thunderball Grotto, used to film two James Bond movies. Try local foods like conch salad and sample rums on a food tour in the capital city of Nassau, immerse yourself in local culture at the Educulture Junkanoo Museum, and learn how to roll cigars or make chocolate at the historic Graycliff Hotel. For scuba divers, there are few better places — the Bahamas has coral reefs, blue holes, and shipwrecks to explore. You can even stay where royalty has — William and Catherine, The Duke and Duchess of Cornwall and Cambridge, spent two nights at Atlantis Paradise Island and want to bring their kids someday.
One can't miss experience that's perfect if you're on a budget — because it's free! — is the People-to-People Programme. It's all about cultural immersion, and it connects visitors with local volunteer hosts who have been vetted by the Ministry of Tourism. You'll get a chance to spend time with a local to learn about the islands, getting great insider tips, and doing things like trying homemade Johnny cake, touring Fort Fincastle, and feeding iguanas.