Swing High Above Punta Cana's Montaña Redonda And Snap The Perfect Pic
Neyman Kseniya/Shutterstock
Located on the eastern tip of the Dominican Republic, Punta Cana is characterized by its powder-white beaches, all-inclusive resorts, turquoise oceans, and laid-back atmosphere. In recent years, the resort town has become immensely popular with snowbirds and jet-setters returning annually to lounge on Punta Cana's miles of unspoiled beaches. In fact, according to Go Dominican Republic, the 48 kilometers (30 miles) of Punta Cana's picturesque coastline is one of the longest white-sand beaches in the Caribbean.
However, Punta Cana is not limited to the oceanfront playgrounds of all-inclusive hotels, beach loungers, and cocktail service. In fact, there's actually a good deal of adventure to be had. From scuba diving and 4x4 tours to horseback riding and catamaran adventures, vacationers who prefer a bit of adrenaline over afternoon Adirondack chair-sitting can find it in Punta Cana. In fact, there's one particular activity that adventurers will literarily find heavenly — swinging off Montaña Redonda.
Swinging off the side of the world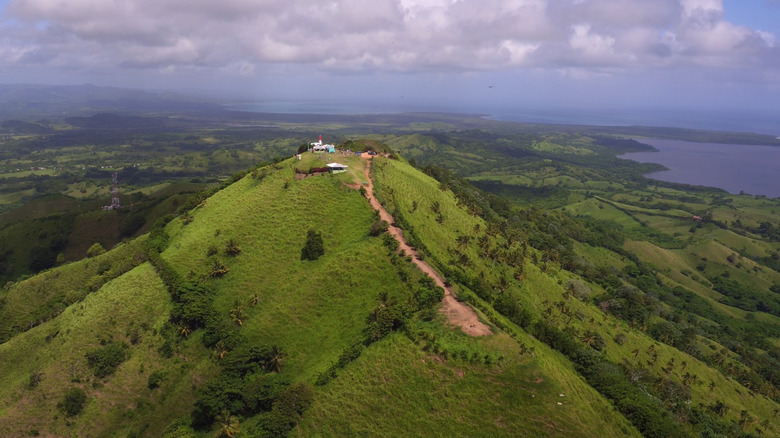 murkalor/Shutterstock
Aptly named Montaña Redonda (Round Mountain) is a flattened, rounded mountain likened to a Caribbean plateau overlooking miles of coastal plains, lush hillsides, tranquil lagoons, and the emerald-green ocean. From the top of Montaña Redonda, you'll enjoy fantastic, panoramic views of the surrounding natural splendor.
However, unlike most (almost all?) popular vistas, you can actually sit on an oversized swing and swing out over the edge. As far as Insta-worthy, the photos created by literally swinging out from the mountain have quickly become an iconic image of the Montaña Redonda attraction and Punta Cana vacations overall.
According to Visit Dominican Republic, you can have your photo professionally taken by the individuals who operate the attraction for a fee. For those who'd prefer to keep their feet a little closer to earth, there are also hammocks and benches available to simply enjoy the view. However, per Best of Punta Cana, you can also take off completely by paragliding from the top.
Punta Cana activities back on earth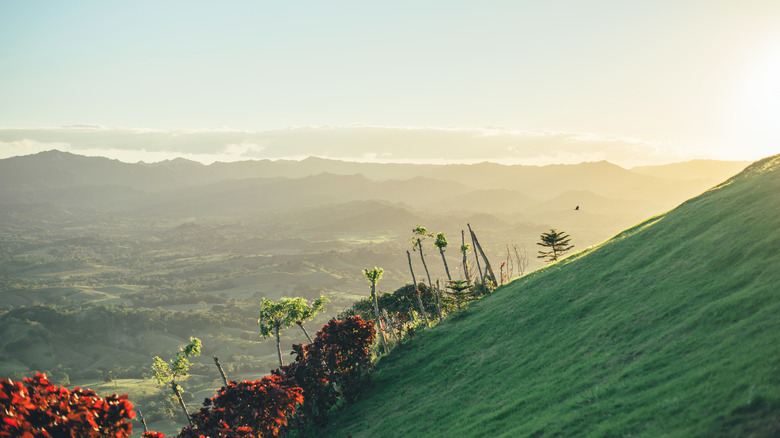 Kseniia Dolzhenko/Shutterstock
Per Punta Cana Travel Blog, Montaña Redonda is approximately an hour's drive from Punta Cana, depending on the location of your hotel. Typically, most thrill-seekers visit Montaña Redonda through an organized tour. If you choose this option, you may drive to the nearby beach village of Miches, then take a safari-type shuttle up the mountain.
Since swinging off a mountain isn't typically an all-day affair, your organized tour may also include other activities in the area, per Best of Punta Cana. This may include whale watching in Samaná, which you access by boat from Miches, or visiting Salto La Jalda, the tallest waterfall in the Dominican Republic and a short drive from Miches.
While an organized tour may be easier, you can definitely access these attractions on your own. However, since Montaña Redonda is a bit far from most Punta Cana hotels, it may be wise to create an itinerary for the area. After swinging in heaven, you'll want something to do back on earth.