This Picturesque Waterfall Is A Must-See When Visiting St. Lucia
Vadim_N/Shutterstock
A trip to the Caribbean is a sure way to detach yourself from everyday stressors and breathe in what nature has to offer. One place that has gained popularity is St. Lucia — a small island that is just northwest of Barbados. According to Saint Lucia, travelers who visit this Caribbean beauty will experience captivating waves, beautiful beaches, and delicious island food. Some of the other activities include volcanic mud baths, ziplining in the rainforest, driving ATVs, snorkeling, and watching sea turtles hatch with your very own eyes. 
However, we urge you not to miss out on visiting the Diamond Falls. According to World of Waterfalls, the appearance of this magnificent waterfall is unique due to the mineral mixture of rainwater and volcanism. This created a reaction that made the cascade take on multiple colors, turning it into a work of art. If you're convinced you've got to visit this island treasure, we'll let you in on all you need to know to experience every aspect of its beauty.
Heaven on Earth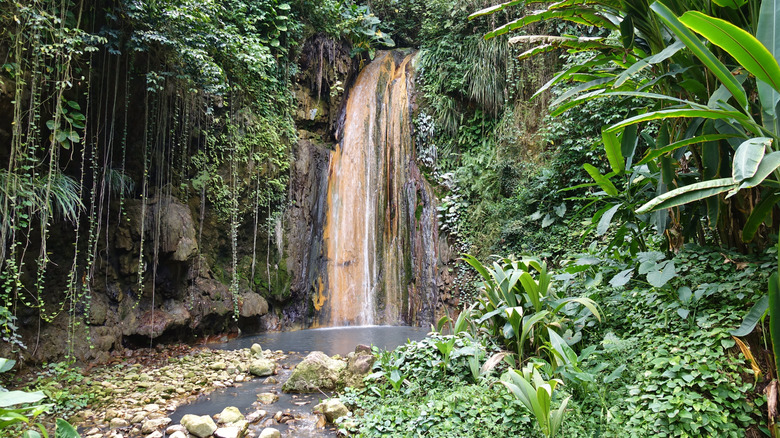 EQRoy/Shutterstock
To find the Diamond Falls, you must visit the Diamond Falls Botanical Gardens, Waterfall, and Hot Mineral Bath Springs, per Diamond Botanical Gardens. Which to us sounds like a magical place that'll feel impossible to leave. This six-acre, award-winning retreat is full of beautiful and unique plants, such as the teal jade vine, beehive ginger, and cat whiskers. However, what you'll most likely want to see is one of the most colorful waterfalls in the Caribbean. It's less than a mile from the town center in Soufrière, and it stands at about 55 feet in height.
Due to the minerals found in the water, the rocks are often painted with copper, giving them an elegant glow. You may be tempted to take a dip into the water, however, it is prohibited due to safety concerns, and guests are urged to instead take a dip into the hot springs. Additionally, to feel most at peace in this area, it's advised to visit during the afternoon.
Other activities to enjoy
Once you've taken in all the beauty of the Diamond Falls, we suggest enjoying the other luxurious activities found nearby, such as the hot springs, per Diamond Botanical Gardens. There, you can sit back and relax in therapeutic mineral water that has served the public for hundreds of years. Guests can choose to either use the public bath or the private bath — which was built in the area where people have been bathing since the 1700s — at an additional cost. 
Next, we suggest requesting a tour guide to show you all the rich, tropical food St. Lucia has to offer, such as nutmeg. According to Balenbouche Estate, other seasonal fruits you're bound to find are mangoes, guavas, love apples, different plum varieties, starfruit, avocados, and Barbadian cherries — which are rich in Vitamin C. If you'd like to continue to explore once your tour is finished, there is plenty of wildlife and flowers to observe that you probably won't see back at home, such as the purple-throated Carib hummingbird.