The Most Budget-Friendly Time Of Year To Visit Jamaica
Travelling Jack/Shutterstock
If you're sorely in need of some real R&R — especially during the blistering winter months — Jamaica is probably one of the best places to go. The country embodies the definition of laid-back. How could it not? With its chill reggae music, tasty jerk-style cuisine, and picturesque beaches, it's everything a vacationer looks for in a perfect trip to the Caribbean.
As with most tropical getaways, some seasons are better than others. It all depends on what you're looking for in a vacation. Plan a visit to Jamaica between mid-December and April if you are budgeting to pay a premium for the best weather and largest influx of tourist crowds.
However, budget-conscious travelers can still get the best of both worlds if they grab plane tickets in November or early December. Responsible Vacation writes that the rainy season begins to ease up in November which means fewer crowds and more money in your pocket! Yup, sip on your piña colada and enjoy the beach bar's soft reggae beat in peace and tranquility. Just keep an eye out for any runaway rain clouds.
What to expect from Jamaica's most affordable season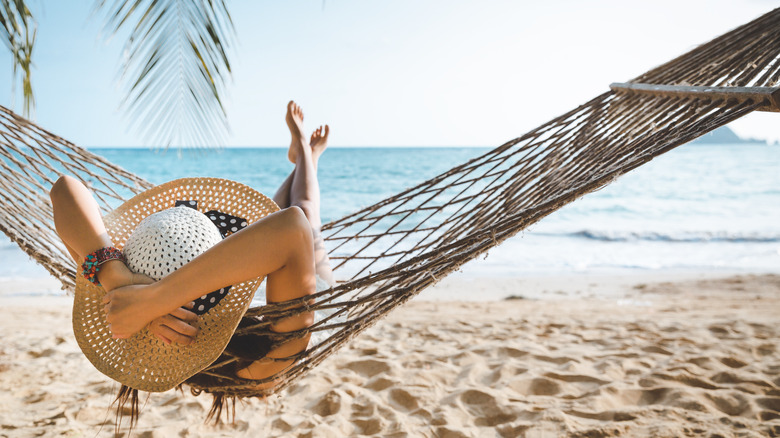 Peera_stockfoto/Shutterstock
The climate in Jamaica is stable year-round but November to Mid-December can be the best time to maximize your enjoyment of the island nation while keeping a few more dollars in your pocket. The Beaches blog writes that Jamaica's shoulder season is as sunny as the high season and, with fewer people around, you'll get closer to that private island or remote beach experience you've always wished for.
If you don't mind a little more rain but getting a bit more bang for your buck, you could even make your trip in October. According to WeatherSpark, this is the rainiest month of the year in Jamaica, so be prepared for a "little more rain" to mean several hours of tropical thunderstorms. However, Love and Road do say that the weather is warm and the rain is not constant, so you will get a few hours of sun to walk around and enjoy the island life.
If you stay through Christmas or arrive directly after, you will get to experience the wonderful Junkanoo street parade! Carnivaland shares some of the lore around Junkanoo and that the event occurs every year between Boxing Day, December 26, and New Year's Day, January 1. The event is a celebration of Bahamian culture taking place mainly in Nassau but Jamaica also takes part with some wonderful dancing and music in the streets.
Best things to do in Jamaica in any season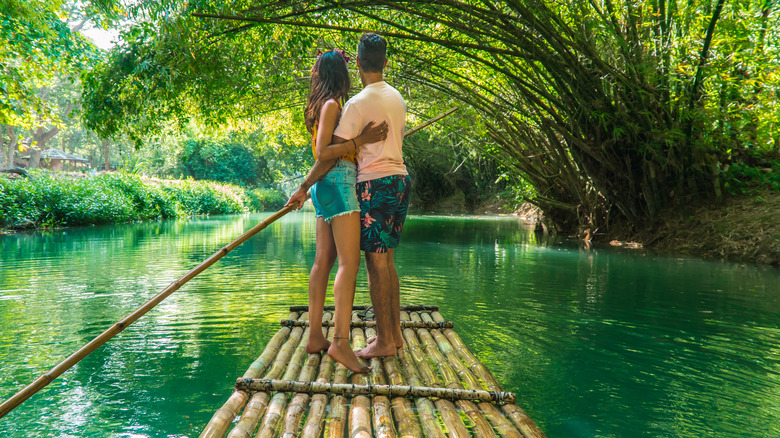 Jam Travels/Shutterstock
Even if you arrive in November or December you don't have to worry about your activity options being reduced. There is still plenty to do in Jamaica during the shoulder season.
One of the best activities to do in Jamaica, according to The Planet D, is bamboo rafting on the Martha Brae River. Get ready for a quintessentially Jamaican journey! Relax as you float along the gently flowing river, lined with bars and restaurants playing reggae music. You can stop anywhere you like along the way and purchase goods from local artisans.
Are you a movie buff? Immerse yourself as one of the bobsled team members in "Cool Runnings" and hit the tracks at Mystic Mountain. Visit Jamaica writes that the Rainforest Bobsled Jamaica rides through the rainforest on high-tech sleds designed to make you feel like a real-life bobsledder, but without all the ice and no athleticism is required!
If you're looking for something a bit more off the beaten path, head to Jamaica's UNESCO World Heritage Site, the Blue and John Crow Mountains National Park. According to Visit Jamaica, this park contains over 100,000 acres of tropical rainforest. It is also home to a number of endemic species you are sure to see on a hike along any of its numerous trails. This is the home of one of the world's best coffee-producing regions, Blue Mountain Coffee. Homegrounds recommends three different companies that offer amazing coffee tour experiences!