The Caribbean Destination At The Epicenter Of The Street Art Movement
Melanie Carden/Explore
Aruba's warm, gentle trade winds offer a come-hither-call, perpetually beckoning tourists to its sunny shores. But the winds of change have also been swirling about the island since 2016 when Aruban Tito Bolivar began efforts to revitalize the island's second-largest city, San Nicolas, per Yello. The once vibrant area slowly withered when, in 1985, Exxon closed the local oil refinery there, per The New York Times.
Forbes reports that this shift left the area depleted of business and, unfortunately, its former vim and vigor. Most shops and businesses shuttered their doors, and the area lost its luster and, with it, tourist appeal — something Bolivar set out to change.
Inspired by a trip to Bogota, Colombia, Bolivar connected with the idea of using curated street art to imbue the lagging area once again with the vibrations of beauty. As a result, he launched Art is Aruba — ArtisA — an organization that oversees the curation of San Nicolas' street murals, various art projects, and the annual Aruba Art Fair.
The San Nicolas streets are bursting with color, stories, and life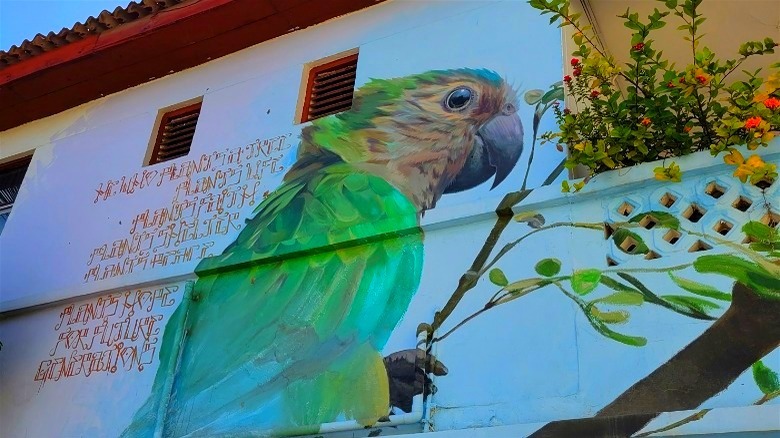 Melanie Carden/Explore
Tito Bolivar and his colleagues invite a contingent of local and international artists to the Aruba Art Fair, which hosted over 150 exhibits in November 2022. Within that, $30,000 worth of art exchanged hands between artists and the fair's 10,000 visitors. And each year, Bolivar invites some of these artists to contribute highly curated street art, which serves as gifts to the city of San Nicolas and its people.
These murals — intensely-hued creations spanning entire blocks or tucked into the crumbled remains of storefronts — serve as colorful postage stamps that chronicle the city's history and journey back to vibrancy. Since Forbes featured the murals in 2019, artists from the annual Aruba Street Fair have continuously added new murals, now totaling well over 55 original works of street art.
One such mural by Curaçao artist Garrick Marchena showcases the showy emerald plumes of the prikichi, Aruba's national bird. The artist incorporates a French technique known as trompe l'oeil, which creates a heightened sense of realism. As a catalyst to that, live ornamental plants growing along the adjacent balcony create the effect that the bird might, at any moment, nibble its orange flowers.
A morning well spent ...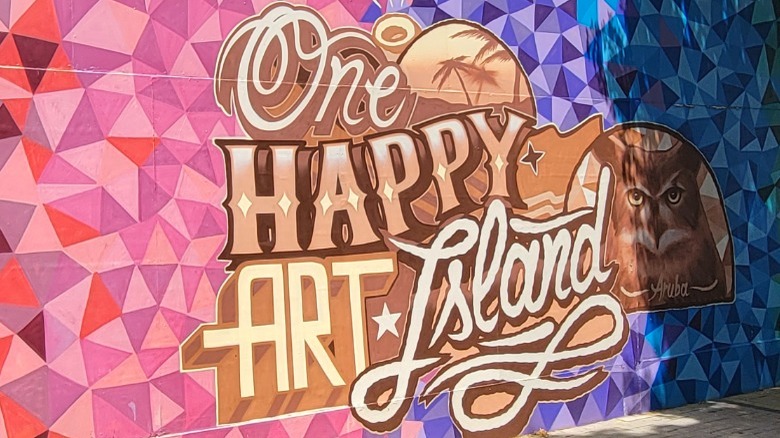 Melanie Carden/Explore
Luckily, San Nicolas is just 20 miles from Aruba's famous Palm Beach. So, even if you're there just for a long weekend getaway, it's an easy way to add an immersive cultural experience to your trip. A morning mural tour will have you back under your thatched tiki-style umbrella at Aruba Marriott Resort & Stellaris Casino in time for their mid-day happy hour.
And there's no need to rent a car or get an Uber; Aruba Mural Tours — which has a 5-star rating on Tripadvisor — offers a full-service experience, including transportation. Tito Bolivar is the lead guide, and most excursions include morning hotel pickups for $45. If you do rent a car and decide to head to San Nicolas on your own, you can join the tour for $30 per person. But if you're looking for something more hands-on, Bolivar offers a $100 package that includes an artist-led painting workshop.
While there, set aside $5 and an hour or so to visit the Museum of Industry, located a block away from Bolivar's ArtisA Gallery. The museum's exhibits will add depth to your street art experience by layering in Aruba's history, inclusive of the oil refinery, the island's aloe industry, and horses. And a visit to San Nicolas wouldn't be complete without a bite of creole or seafood at Charlie's Bar and Restaurant, which is equally popular with local artists and tourists. And before you leave, be sure to grab a photo of the now-iconic "One Happy Art Island" piece by Porto, Portugal street artist, MrDheo.