This All-Inclusive Resort In Aruba Is The Perfect Destination For Your Next Family Vacation
TravnikovStudio/Shutterstock
Aruba is a family-friendly vacation spot in the Caribbean that's accessible from the U.S. through direct flights, uses U.S. currency, is filled with friendly people who speak fluent English, and has one of the lowest crime rates in the region, according to Aruba, a website run by the Aruba Tourism Authority. Plus, the site adds, there are plenty of beaches you can actually enjoy, thanks to generally good weather all year round.
If you and your family are here for the beach and some fun under the sun, there's no better place to stay than at one of the 20 hotels and resorts that line Aruba's neighboring Palm Beach and Eagle Beach. This includes the all-inclusive Hotel Riu Palace Aruba, part of the Spanish hotel chain Riu Hotels & Resorts, which runs holiday resorts, most of which are all-inclusive.
The Hotel Riu Palace Aruba is ranked top nine in the best family hotels listing of the U.S. News & World Report and top 10 in the best hotels in Aruba list of USA Today 10 Best, which also recommends it as one of the best luxury hotels and one of the best hotels for providing great value as an all-inclusive accommodation. In this article, we'll learn what makes it a great home base for your family's Aruba vacation.
Why it's perfect for kids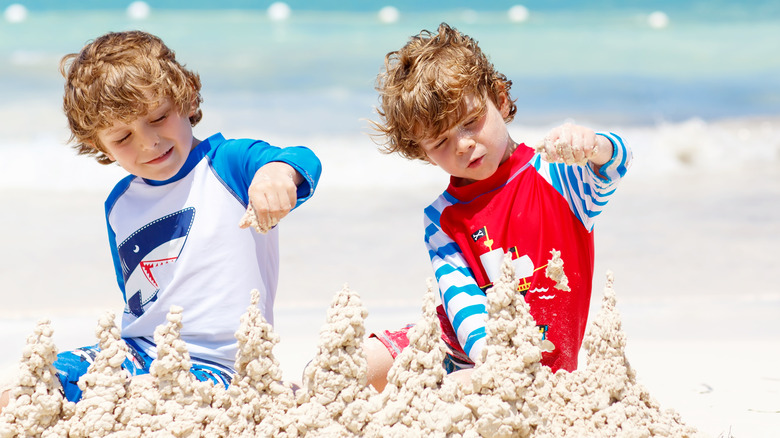 Irina Wilhauk/Shutterstock
For starters, the Hotel Riu Palace Aruba offers connecting rooms, which is perfect for families with younger children. These feature a king bed or two double beds per room and require four people minimum for each room, according to Ultimate Vacations. A TripAdvisor reviewer notes, however, that the two junior suites they occupied were not traditional connecting rooms, i.e., not connected by a wall. Instead, "each suite had a door that opened up to a common hallway," with a door to the outer corridor at the end. Free Wi-Fi is available in the room and throughout the resort.
When it comes to food, parents will appreciate the 24-hour room service and the Capuchino patisserie and ice cream parlor to satiate the kids during meal times, in addition to the buffet at the main restaurant and specialty restaurants. Kids can also get popcorn, sandwiches, and nachos from the sports bar, according to Family Vacation Critic.
The resort offers babysitting services and a kids club called RiuLand for children 4 to 12 years old, where counselors supervise sandcastle building, crafts, and Dutch language learning, per Family Vacation Critic. In addition, there's a children's playground, per the hotel's website, and a tiny round pool for children, according to Oyster. Plus, the resort is nearby kid-friendly attractions on the island, such as the Butterfly Farm, Donkey Sanctuary, Philips Animal Garden, Archeological Museum of Aruba, and the Ayo and Casibari rock formations, per Aruba. And, of course, there's the beach.
Why it's perfect for parents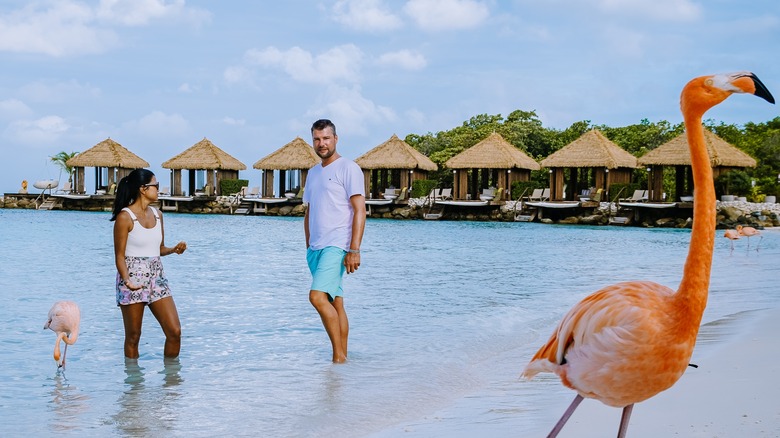 fokke baarssen/Shutterstock
Hotel Riu Palace Aruba features modern rooms and large bathrooms with double sinks, rainfall showerheads, shampoo dispenser, and Lavarino Cosso bath products, per Oyster. There's a TV and large closets that hold a coffeemaker, minibar, and liquor dispenser, the site adds, noting that suites include hydromassage bathtubs and bidets, while junior suites have a balcony or terrace and a sunken lounge.
When it comes to food, families prefer to dine at the Don Nicolas buffet (main restaurant) over the four specialty restaurants, Krystal (fusion), Sayuri (Japanese), Milano (Italian), and Nautilus (steakhouse), per Family Vacation Critic. There's a bar in the lobby, a swim-up bar, Barry's bar with terrace, and a sports bar. The site recommends heading to nearby shops, bars, and restaurants, after securing a babysitter for the kiddos, for more options.
The boardwalk bordering the beach is great for an early morning or sunset stroll. The beach features beach chairs or loungers and palapas that fill up early on a first-come, first-served basis, per Oyster. There's a casino with 11 table games and 211 machines (via Oyster), a fitness center, a spa, beach volleyball court, sauna, two pools, and a whirlpool bath. Motorized water sports are not included, but Jet Ski rental, snorkeling, scuba diving, and parasailing are available from outfitters. Nighttime entertainment is available but doesn't suit everyone's taste, with Family Vacation Critic saying it was mediocre and disappointing. The site, however, praises the maid service as excellent, especially the nightly turndown service.