The Best US Destination For Parasailing
Alex Tihonovs/Shutterstock
Some people long for moments of quiet and tranquility when they have free time to enjoy. Others find their Zen pursuing activities that highlight adrenaline-pumping fun instead. It's fair to say that the latter group includes those with a particular passion for parasailing.
This unique water sport combines the one-of-a-kind feeling of flying that adventure seekers are often looking for with spectacular views from a bird's-eye perspective too. Those who decide to enjoy a parasailing experience through an outdoor recreation company are first outfitted with a lifejacket and specialized harness. This is connected to a canopy parachute that's secured to a boat from a launching platform at the back with towing ropes.
As the boat picks up speed, parasailers rise into the air, eventually becoming suspended at an approved height. Floating along at this vantage point is something that can be done solo or up to a trio depending on the company you book through. Those looking for even more heart-pounding fun can request the boat's captain rise them up and down through the air dipping their toes in the water along the way.
According to the Parasail Safety Council, there are over 240 parasail concessions operating throughout the U.S. While this provides adventurers with a vast array of choices and destinations, parasailing is at its very best when you head to Lake Tahoe in California. The combination of gorgeous waters, mountains, and lush terrain here means that no matter when you go, you're guaranteed an unforgettable parasailing experience.
Enjoy an unbeatable view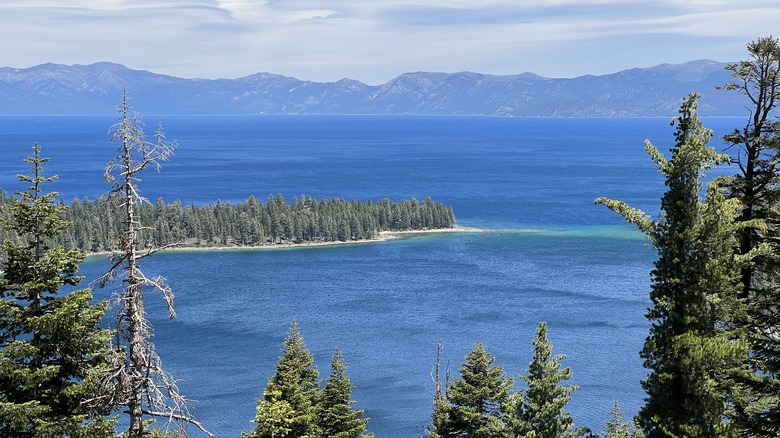 Gado/Getty Images
The adrenaline rush that comes from reaching such dramatic heights while parasailing can be found just about anywhere an adventurer chooses to enjoy this activity. However, Lake Tahoe offers up unique and breathtaking views, paired with the captivating terrain that makes parasailing here truly exceptional. Some of the location advantages are evident before you even get up in the air. California Crossings points out that Lake Tahoe enjoys a circumference of 72 miles, meaning there's no shortage of watery space for boats to zip through as parasailers take to the skies.
It's estimated that Lake Tahoe is around 2 million years old and it seems time has only made this destination better. Those who choose to parasail here can make the most of outdoor fun on a lake that sits at 6,225 feet, putting it over a mile high. The surrounding mountains are woven into a gorgeous landscape with peaks hitting 11,000 feet.
Lake Tahoe has also earned a reputation for clear and clean water with some samplings coming back at over 99% pure. This sets an impeccable water health standard for parasailers. It also means that once you get in the air, you'll have access to views of beautiful blue waters below thanks to the light absorption on such clean surfaces. On the east and west sides of the lake, this transitions to an eye-catching emerald green that's reflected in the name of the coves you'll soar over.
Easily customize your adventure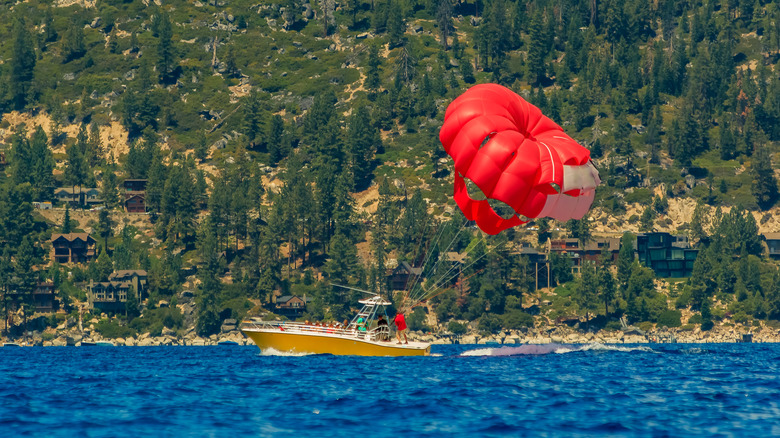 SvetlanaSF/Shutterstock
Depending on what shoreline you select when planning your Lake Tahoe parasailing adventure, you'll have options to personalize your view from above. The company you work with will also expand your choices when it comes to tailoring your experience to your adventure style here. If you're going to be spending time around Lakeside Marina in south lake Tahoe, you'll find Action Water Sports is a popular provider of parasailing excursions in the area.
Parasailing around Lakeside Marina with this company comes with opportunities to pick and choose just how thrilling your experience will be. There are options to parasail at either 500 feet up in the air, or 1,000 feet up if you're looking for more. You'll need to make a reservation ahead of time to enjoy a journey with Action Water Sports as their tours are popular amongst locals and visitors alike.
For those who are planning on lingering around the northern shorelines of Lake Tahoe, teaming up with North Shore Parasail is a good option. This company specializes in giving guests a spectacular parasailing experience over beautiful Kings Beach, known for its white sands, playgrounds, swimming areas, and 1,700 feet of lakefront shoreline to enjoy. Parasailing with this company includes 15 minutes of airtime at 800 feet up in the sky complete with sweeping, panoramic lake views making for a California adventure you won't soon forget.