The #1 US Destination For An Epic Kayak Adventure
EB Adventure Photography/Shutterstock
The U.S. provides some of the best, most diverse kayaking opportunities in the world. From the crystal-clear Alpine water of Lake Tahoe and Tuolumne River's boulder gardens to the red mesas along the San Juan River and the tropical Mokes in Hawaii, the U.S. offers a seemingly endless array of kayaking experiences. While kayakers will certainly have their favorite spots, one U.S. waterway seems to capture the imagination of kayakers from around the world — the Colorado River.
Starting in La Poudre Pass Lake in Colorado and emptying into the Sea of Cortez in Northwest Mexico, the Colorado River flows for 1,450 miles through seven states, including Colorado, Wyoming, Arizona, New Mexico, Nevada, Utah, and California. While you can't kayak the entire river from start to finish, you can kayak most of it, and thousands of intrepid, adventure-minded travelers launch into the river each summer. If you're planning a kayaking trip or considering adding kayaking to your itinerary while visiting nearby destinations, there are a few things to know about the acclaimed river.
Kayaking basics for assessing routes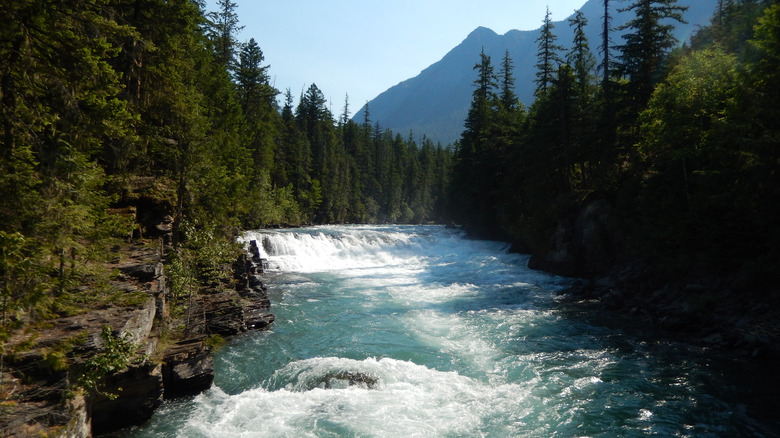 Jen-nifer/Shutterstock
No matter where you choose to kayak on the Colorado River, it's not as simple as hopping into a boat and paddling downstream. You'll need to understand route difficulty ratings to accurately assess river sections based on your skill and comfort level. U.S. rivers are rated using the American Whitewater International Scale of River Difficulty, which considers both the speed of moving water and the difficulty of whitewater rapids.
There are three categories of water speed: Class A, Class B, and Class C. If the water moves under 2 mph, then it's Class A. Class B water moves between 2 and 4 mph, while Class C water flows at 6 mph or faster. Although water speed is an important consideration, knowing the difficulty of whitewater rapids is crucial when it comes to kayaking. Attempting to kayak on rapids above your experience and skill level can be incredibly dangerous. There are six whitewater classifications.
Waters in Class I waterways are calm with few objects to navigate around, while Class II waters move faster but feature easily navigable channels. Kayakers with moderate experience typically enjoy Class III rapids, which feature narrower channels and unpredictable wave heights. Class IV to Class VI whitewater rapids are long, hard to predict, and typically require scouting to plan routes. It's important to remember that classifications can change due to river conditions and water levels, so you'll need to research the river's real-time classifications before launching.
Colorado River's Upper Basin is a bit wilder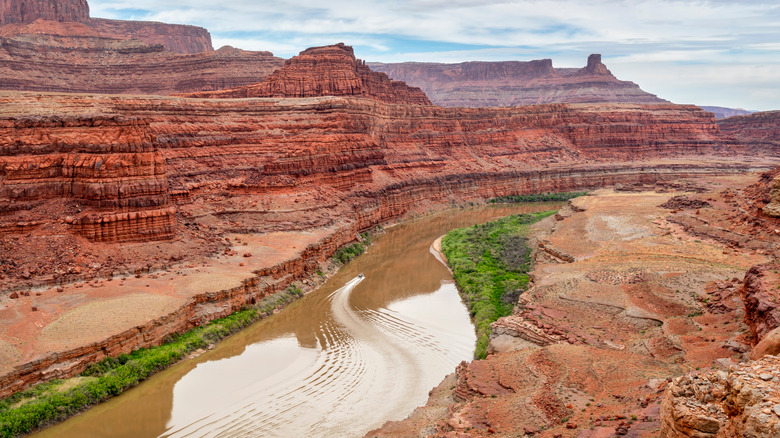 marekuliasz/Shutterstock
The Colorado River is divided into two regions: the Upper Basin and the Lower Basin. The Upper Basin flows through the states of Colorado, New Mexico, Utah, and Wyoming. Of the two river sections, the Upper Basin of the Colorado River offers more opportunities for experienced kayakers, though beginners can still find suitable routes.
For example, in Colorado, you'll find that most sections are only suitable for intermediate and expert kayakers, such as the Class V rapids of Gore Canyon. In fact, this section may be one of the gnarliest routes in all of Colorado. However, only 11 miles downstream, beginner kayakers can enjoy a section between Rancho Del Rio and State Bridge. Overall, whether you're in the Upper or Lower Basin, there will usually be access/exit points in popular areas to suit all experience levels.
You'll find some of the most scenic stretches of the Colorado River winding through the canyons around Moab in Utah. Novice kayakers can enjoy the Fisher Towers section, while experts and more experienced kayakers should head to Cataract Canyon in Canyonlands National Park for Class III-IV rapids. But, whether you're a beginner or a seasoned kayaker, the sections around Moab offer breathtaking scenery.
Colorado River's Lower Basin is a bit milder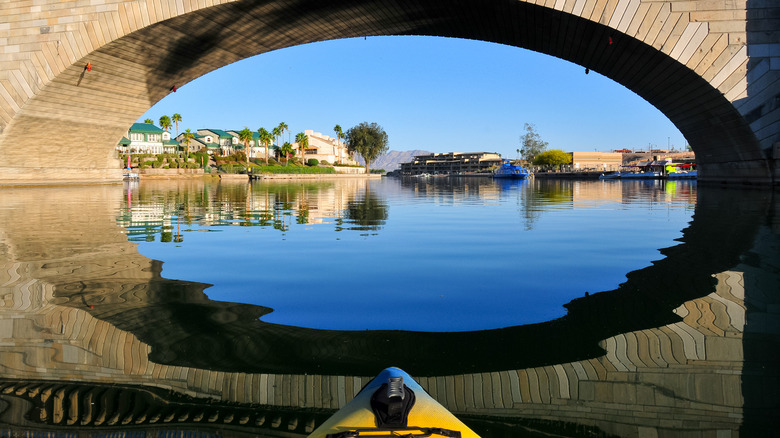 Matthew Thomas Allen/Shutterstock
The Colorado River's Lower Basin runs through Arizona, Nevada, and California. If you're planning to trip to Las Vegas, you'll find excellent kayaking opportunities near the Hoover Dam. As the Colorado River runs through Black Canyon, the 30-mile section is a National Water Trail. Located below the Hoover Dam, the waterway is ideal for tranquil and scenic kayaking excursions. More experienced kayakers may prefer kayaking from Lake Mead to the mouth of the Colorado River, which is a 57-mile route with Class III rapids in sections.
Forming the eastern border between California and Arizona, the Colorado River has only a brief stint in California, though there are still opportunities to kayak. By launching in the city of Needles or at Moabi Regional Park, you can kayak down into Havasu National Wildlife Refuge and Lake Havasu. While not a rapid-filled paddle, the area's rock formations, wildlife, and crystal-clear waters make the trip worthwhile.
While the Lower Colorado River may be less popular with experienced and expert kayakers, as the Upper Basin boasts more difficult rapids, there's one big exception. No matter the experience level, kayakers from around the world flock to one section of the Colorado River in Arizona — the Grand Canyon.
Plan ahead to kayak the Grand Canyon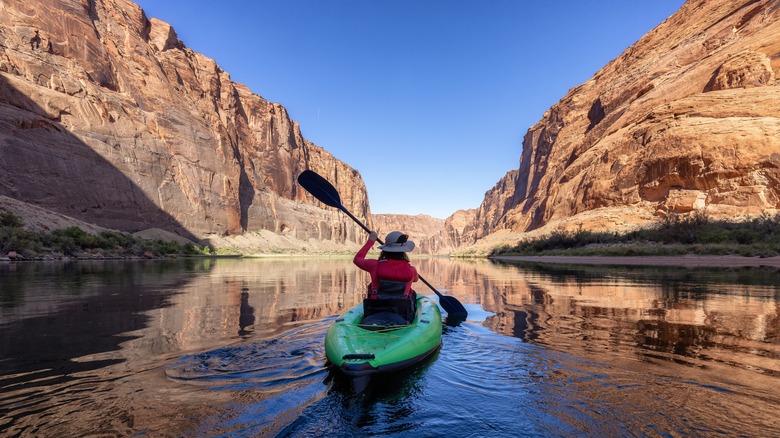 EB Adventure Photography/Shutterstock
For many, a kayaking trip through the Grand Canyon is the ride of a lifetime, whether you're planning a one-day excursion or a 21-day kayaking adventure. Instead of six categories to rate the rapids, as you typically would in other parts of the river, the Colorado River around the Grand Canyon follows a 10-point scale, with various sections offering different classifications.
Kayaking the entire Grand Canyon typically means the 280-mile stretch from Lee's Ferry to Pearce's Ferry. Experienced kayakers will find the largest rapids at Crystal Falls and Lava Falls, which can range from Class 7 to 10 rapids, depending on the water level. This would convert to Class IV to V rapids on the five-point scale. However, there are plenty of sections suitable for beginner kayakers. The 15-mile section from Glen Canyon to Lee's Ferry is particularly popular for novice paddlers.
You can choose to take a commercial (guided) or self-guided kayaking trip. Either way, you'll need to plan ahead. Guided kayaking trips, especially multi-day trips, are typically reserved years in advance. If you take a self-guided trip, you'll need to apply for permits, which are available through the National Park Service on a first-come, first-served basis.
Check to see if a permit is required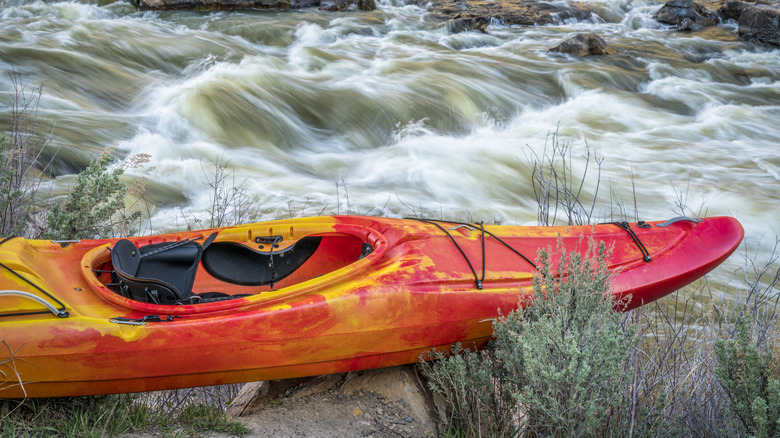 Marekuliasz/Getty Images
Although the Grand Canyon is a particularly popular destination for kayakers on the Colorado River, the Grand Canyon is by no means the only popular place to launch. For example, the James M. Robb Colorado River State Park in Grand Junction, Colorado is a favored launch site for kayakers, though you don't need a permit to kayak in the area.
However, much like the Grand Canyon, there are a few places on the Colorado River that do require kayakers to obtain a permit. Due to the environmental impact of heavily trafficked river sections, governmental agencies created a permit system. You'll need to obtain a permit to kayak in Cataract Canyon and Westwater Canyon in Moab, as well as Ruby-Horsethief Canyons between Colorado and Utah.
While obtaining a permit may take a bit of time and energy (and luck), you'll appreciate that these incredibly popular sections of the river aren't completely overrun by other adventure-seekers. After all, we're not the only ones who consider the Colorado River as possibly the best kayaking waterway in the world.