The Best Budget-Friendly Beach Destination In The Caribbean
Sean Pavone/Shutterstock
Of all of the amazing places to visit in the Caribbean, Puerto Rico is one of the most affordable. The island is enchanting and has something to offer everyone. If you want to surf, head to Isabela or the surfer's paradise of Rincón and you will not be disappointed. Conversely, if tranquil beaches are what you're after, then you'll find those too in Puerto Rico. Head to the town of Arecibo and you'll find La Poza del Obispo, a beach that's as serene as it is beautiful.
As you soak up the sun and surf on this beautiful island, you'll also get the chance to immerse yourself in the rich culture of Puerto Rico. The island's food has a compelling culinary tradition and an equally rich history that's worth exploring deeply while you're there. It's no wonder that Puerto Rico makes our list of the top Caribbean destinations that everyone should visit at least once. Best of all, there are ways to make the vacation very budget-friendly.
How to get to Puerto Rico, when to travel, and how to get around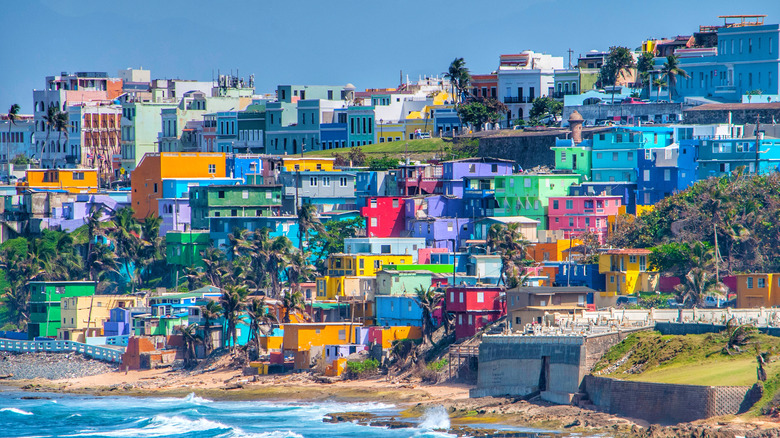 Martin Wheeler III/Shutterstock
Because Puerto Rico is a U.S. territory, it's easy to find nonstop flights from the United States. Many major hubs, from New York to Philadelphia to Miami, offer direct flights, making the commute easier and faster since the island is so close. This also means that American tourists do not need a passport and you can use U.S. dollars there. 
It's more affordable to travel during Puerto Rico's off-season. The most popular — and most expensive — time to visit the island is from December to May. Low season is from June until November, when hurricane season rolls around. So opt for late April to early June for an ideal visit, since the heavy tourism will be tapering off, but you'll still be ahead of any inclement weather. If you don't mind the risk, August and September offer good deals. Travel insurance might not be a bad idea, though.
In terms of getting around the island, renting a car is actually one of the easiest ways to commute and much more affordable than organized tours. The capital, San Juan, has several car rental agencies as does the city of Carolina. A car is one of the best ways to get to the many underground caves that Puerto Rico has. Visit the Río Camuy Cave Park or the Cueva del Indio for some more daring expeditions. However, there are also taxis, Uber, and local transportation on the island if you don't want to deal with a car.
Puerto Rico on a budget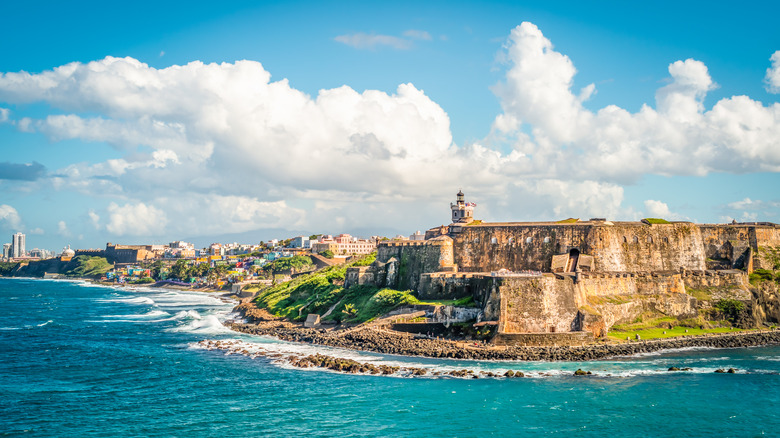 Napa74/Getty Images
The beach is arguably the main reason why tourists flock to Puerto Rico and since beaches there are public, they're free. According to Frommer's, some of the beaches, called balnearios, have lifeguards and showers, and the fees are for parking and use of lockers. 
If you're eager to walk, take in Old San Juan, a historic district in the capital. It boasts stunning architecture and famous landmarks, like the fortress Castillo San Felipe del Morro. You can also visit the Catedral Basílica Menor de San Juan Bautista, which is free but you can give a donation.
In terms of places to stay, there are wonderful guest houses around the island that offer rooms for under $100. Check out Isla Verde By The Beach Guest House in San Juan or ESJ Towers Hotel in Carolina for affordable rooms. The island also boasts an abundance of hostels, if you don't mind bunking with other travelers, but you do get a heck of a deal. Check out The Surfing Turtle in Luquillo for some cheap digs. There are also wonderful places to stay through Airbnb, Vrbo, or HomeToGo.
For the best and most affordable food, keep an eye out for local bakeries that offer coffee and sweet as well as savory fare. Try La Bombonera in San Juan. Food trucks and street food are also smart ways to get authentic, affordable food. And of course, if your lodging comes with a kitchen, opt for some home cooking or picnic baskets to offset the cost.