How To Visit Greece On A Budget
Vera Petrunina/Shutterstock
Greece. The cradle of Western civilization. The birthplace of democracy. The stomping grounds of Zeus and Poseidon. From the Acropolis in Athens to the turquoise beaches of the Ionian Islands, Greece is celebrated worldwide for its storied history, natural beauty, and cultural vibrancy. Whether you're a history buff, literature lover, art aficionado, food connoisseur, beach-lounging enthusiast, or just an intrepid Odysseus open to it all, Greece is a popular bucket-list destination among travelers for a reason.
Due to Greece's popularity, postcard-worthy scenery, and island-dotted geography, many would-be visitors assume that Greece is an expensive destination to visit. And it can be. Greece does offer plenty of world-class resorts, seaside restaurants, and a notorious nightlife that can "opa" the most durable of budgets.
However, savvy travelers can experience the best of Greece without succumbing to the siren's song of tourist-catering costs. By traveling and spending thoughtfully, avoiding touristy islands, and choosing the right time to visit, you can plan a dream Greek vacation on a sensible budget.
Fly into Athens and ferry to your island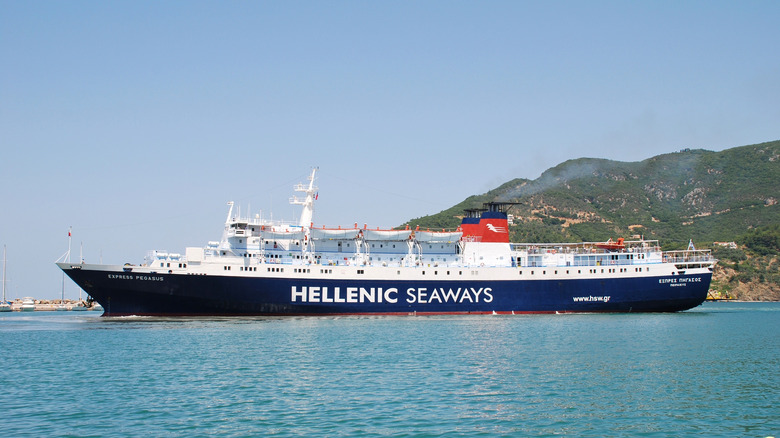 Newsfocus1/Getty Images
Athens International Airport (AIA) is one of Europe's busiest airports. While there are 15 international airports throughout Greece, including on the islands of Crete, Rhodes, Corfu, and Santorini, you're way better off (financially) flying into Athens. If you're island-hopping, you can then take a ferry or a regional airline to your island of choice. As a side note, if you can't find a cheap flight from the U.S. to Athens, then compare the cost of flying into another European city and taking a short flight to Athens on a budget airline. This strategy may save you significantly on airfare. 
Greece boasts a massive ferry network, with routes to over 250 destinations, and the ferry ride will almost always be less expensive than flying. However, some ferry routes are long. For example, a ferry from Athens to Crete can last from seven to 17 hours, depending on the boat's speed. You could take a high-speed ferry, which is more expensive, or save a decent amount of money by taking an economy ferry.
You can save even more if you choose an overnight ferry for longer journeys. Not only are overnight ferries generally less expensive, but you'll also save on the expense of a night's accommodations. (Think night train). This approach may not be for everyone, but it's a pretty cool hack for budget-minded backpackers. Regardless, we still suggest taking a ferry over flying. You're in Greece. Why wouldn't you want to sail the Aegean Sea?
Explore less-visited Greek islands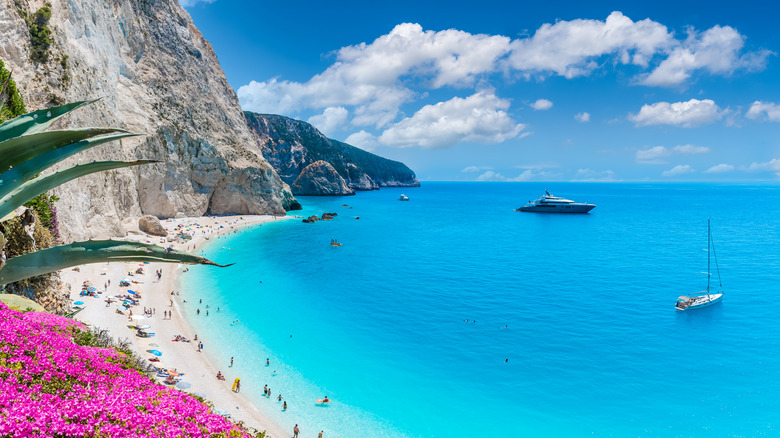 Serenity-H/Shutterstock
When many envision a dream Greek vacation, they may imagine the windmills and party on Mykonos or the cliffside, whitewashed villages of Santorini. But these islands are only two of the Cyclades island cluster. You'll find panoramic sunset views, village paths with pink bougainvillea, cubic homes, unspoiled beaches, and authentic Greek charm at other Cyclades islands, such as Naxos, Paros, and Sifnos. While Mykonos and Santorini are incredibly popular, their popularity comes with market demand price tags.
Choosing to explore less-popular Greek islands and larger islands, such as Crete, can significantly lower the cost of your trip to Greece. To further reduce the cost (and time) to ferry when island-hopping, choose to explore one archipelago, such as the Cyclades, the Dodecanese (Rhodes and Kos), or the Ionian islands (Corfu and Paxos). If you'd like to spend a decent amount of time in Athens and on Greece's mainland, but still want to visit a few islands, consider exploring the Saronic Islands. Many of these islands are only a few hours via ferry from Athens.
Stick to quality budget-friendly accommodations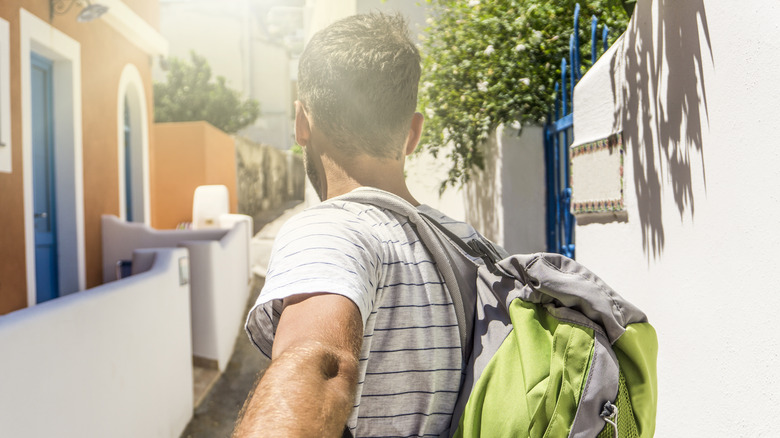 Carlo107/Getty Images
Greece has no shortage of affordable accommodations, especially on the mainland and throughout less-visited islands. To avoid high lodging costs during your trip to Greece, avoid international resorts and tourist-centric hotels. On most islands, you'll find family-run guest homes, boutique hotels, and plenty of Airbnbs that cost a fraction of the seaside resorts.
Greece also features plenty of hostels, which can be perfect for solo travelers and backpackers. To save a little extra, try to find a hostel that includes a free breakfast. Hostels, as well as campgrounds that rent tents, are available on Santorini and Mykonos, which may be an option for visiting these islands on a budget.
However, in Greece, popular hostels and other budget-friendly accommodations tend to fill up quickly for peak season. If planning a Greek vacation for the summer, you'll need to plan your route and book your accommodations months in advance to receive better rates. As accommodations become more scarce, the cost of lodging will continue to rise.
Be smart with your eating and drinking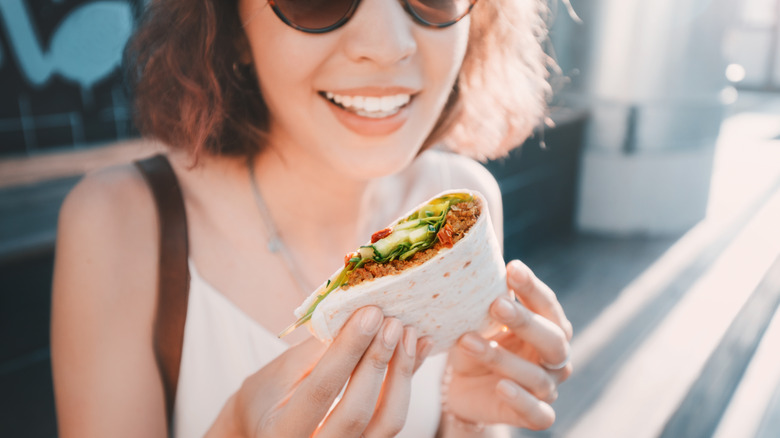 frantic00/Shutterstock
Although Greek food can be reasonably affordable, eating out regularly can break your budget pretty quickly. Greece has no shortage of high-end restaurants, but the country also boasts plenty of markets and budget-friendly eateries that locals frequent. You'll find excellent meals at traditional, family-run tavernas, while the fresh produce, meats, and cheeses at local markets can provide everything you'll need for a picnic. You'll also find street food vendors selling traditional Greek fast foods, such as souvlaki (meat skewers wrapped in pita bread), spanakopita, gyros, and shawarma. 
Greece is a delicious country to visit, so we definitely recommend indulging in fresh seafood dishes and Mediterranean cuisine at a few seaside restaurants during your travels. These exquisitely fresh and authentic meals can be highlights of your Greek vacation, but if you'd like to save a few bucks, consider eating your more expensive meals for lunch. Typically, the lunch menu will be a fraction of the dinner menu's price.
Also, while you'll spend up on alcohol to experience Greek nightlife, drinks during happy hours can be half the usual cost. Local Greek wine and ouzo, an anise-flavored aperitif, aren't generally too expensive, but the government does levy a pretty hefty tax on beer. Cocktails at trendy clubs can also be super expensive, so drink wisely and be conscious of your budget. Dionysian indulgence is rarely compatible with budget-minded travel.  
Visit Greece during a shoulder season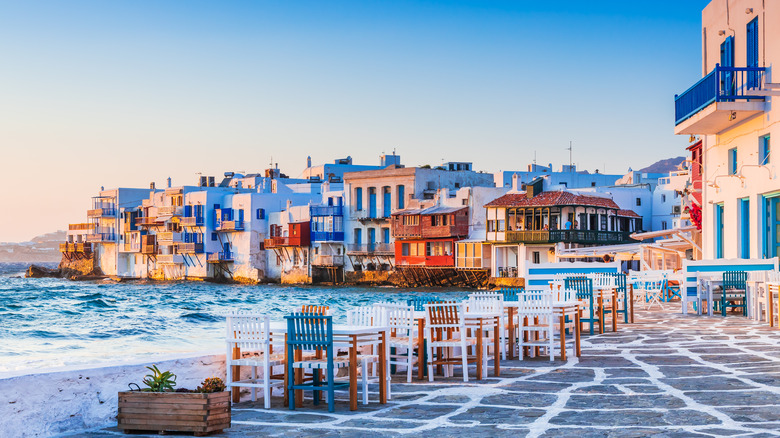 SCStock/Shutterstock
Finally, the easiest way to plan a budget-friendly Greek vacation is by visiting during a shoulder season. By avoiding the peak seasons of July and August, you'll typically find better prices on flights, accommodations, and other travel-related expenses. Due to its location by and in the Mediterranean, you can still experience beach weather outside of these summer months.
Although the temperatures begin to cool in September and October, the waters are still warm from the summer heat. And while the sea is still pretty cold in May and June, the daytime temperatures can be perfect for beach lounging. You'll also avoid the large crowds of July and August, making shoulder seasons ideal for those who prefer a more relaxation-forward experience. Overall, staying flexible with your vacation calendar can lead to significant savings.
While social media images of Greece's pristine beaches, opulent resorts, and fine dining tables on seaside cliffs can present Greece as an out-of-reach vacation spot, the country can be an affordable destination. With a little strategic planning and research, you can navigate your own Greek odyssey without shipwrecking your finances.