Here's What You Need To Know Before Hitting The Cruise Ship's Casino
Ihor Koptilin/Shutterstock
There's no reason you can't play your favorite games on the high seas. Most cruise ships have onboard casinos, complete with slot machines and table games. It's worth noting that Disney Cruise Line doesn't have casinos, so if that's a priority to you while vacationing, skip Disney. Viking Cruises also don't offer casinos.
Even if you don't normally go to casinos, the venues on cruise ships can be a tempting offer during nights when the ship is out at sea and you're looking for something fun to do. This is especially true if you book an extra-long cruise, which can be great, but 50 to 200 days of vacation might require some slot machines or roulette to break up the experience. There are lots of perks to having a casino to escape to. But cruise ship casinos are different from regular casinos, so before you pack your bingo daubers and your lucky bracelet, note what changes you can expect to find.
When you can gamble at a cruise ship's casino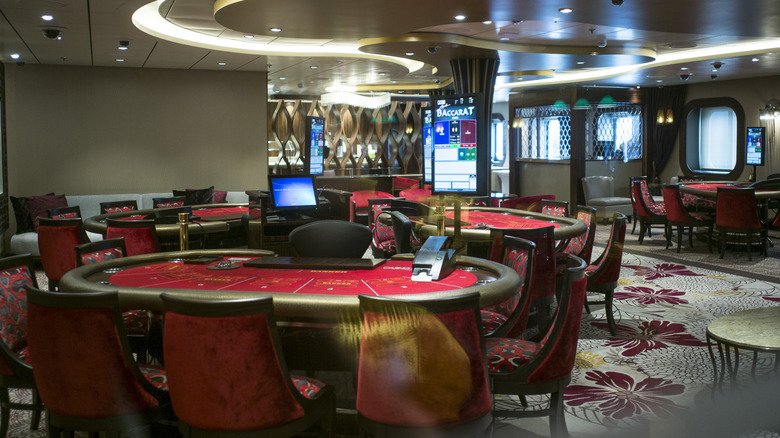 Bloomberg/Getty Images
Cruise ship casinos are usually not open 24 hours a day. When cruises are at a port of call, the ship generally closes its casino to abide by local laws. However, once on international waters, the casinos are free to operate. Depending on the cruise company, the casino might open as early as 11 a.m. or open in the evenings only. The cruise ship will have a daily schedule posted and this will include casino hours.
Like many land casinos, some cruise ship casinos still allow smoking in designated areas. For example, Royal Caribbean and Carnival Cruise Line allow smoking in specific areas while offering smoke-free areas for other gamblers. However, it also depends on what the departure country was for the cruise. For example, for Royal Caribbean, if the cruise departed from Australia or the United Kingdom, smoking is not allowed in the casino.
In terms of drinks, cruise casinos offer luxury bars so that you can drink and gamble at the same time. According to The Points Guy, luxury cruises like Regent Seven Seas, Silversea, and Seabourn offer free drinks for the entirety of the cruise voyage, so drinks are likewise free in the casino. Most other cruises offer free drinks if you join their loyalty programs and earn enough points. For example, Carnival has a drinks program called Drinks On Us! Meanwhile, Royal Caribbean has a club called Club Royale that gives its members complimentary drinks.
What you can expect to play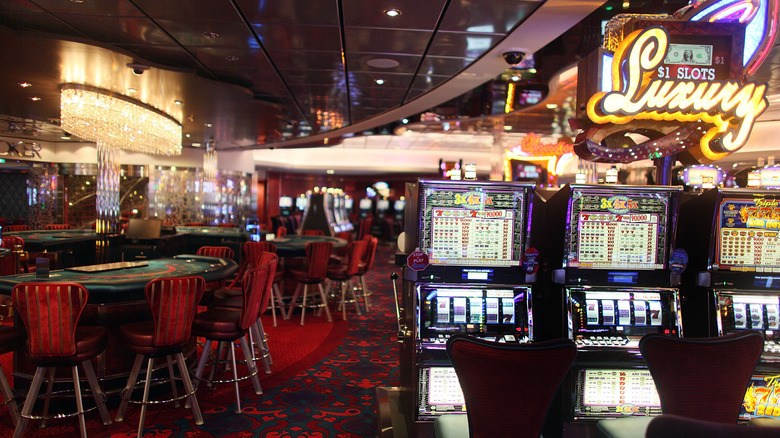 Joe Raedle/Getty Images
Cruise ship casinos offer your typical array of games. There are slot machines, including penny slots, and most offer table games. You can expect to be able to play blackjack, roulette, and craps. Games may vary depending on the ship. For example Royal Caribbean also offers baccarat, three card poker, and Ultimate Texas Hold'em. Some cruise casinos will offer high-stakes gambling if enough players want to participate, but don't count on this. Some lines like Carnival have prize games as well as scratch cards. Many, like Holland America Line, also offer bingo.
Tournaments are common in cruise casinos. They'll likely have slot tournaments, as well as blackjack and Texas hold 'em tournaments. While certain cruise casinos have live poker games, many others offer video poker, while some offer both options. Prizes can be very creative too. For instance, on a Royal Caribbean cruise, winners may get a cruise for two plus a chance to enter the final poker tournament, with a prize of $100,000.
Complications regarding cruise casinos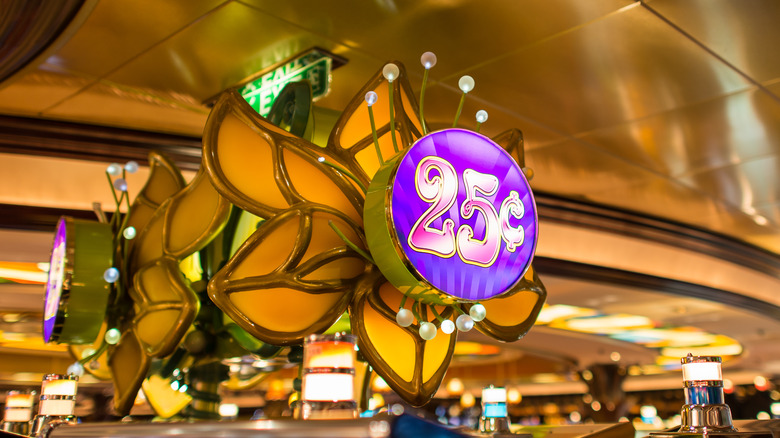 Rschlie/Getty Images
The age restriction on cruises varies depending on the country of departure and the general destination area. For example, guests typically have to be 18 or older to play, but when cruises are in Alaska, they follow the United States' age limit of 21. However, certain cruises like MSC Cruises have an age limit of 21 if the ship is in a U.S. port.
In terms of money, you can use both cash and a cruise card while at the casino. However, there can also be a service fee attached to certain transactions. Typically, this is around 3%. It's worth being aware that it may be difficult to cash out on some cruise casinos. You must cash out by the last night of your cruise and be mindful that the casino may not be open the next morning. However, there is a chance to win real money on a cruise, so there's a chance for some fun and some winnings.